West Desert
InZinc Mining Ltd. holds a 100% interest in the advanced stage West Desert zinc-copper-iron-indium project located approximately 160 kilometres southwest of Salt Lake City, Utah.
In June 2021 InZinc optioned the West Desert project to American West Minerals Limited, a private Australian company, and received an initial cash payment of US$500,000 on signing.
In September 2021 InZinc amended the June 2021 agreement, accelerating payments and the earn-in. Revised terms (see news release September 27, 2021) include:
US$125,000 cash upon signing (received)
(a) $1.0M cash; (b) US$1.225M cash (previously US$1.5M); and (c) 13,385,000 shares of American West, upon American West completing an IPO on the ASX
Reimbursement of ~US$96,577 for a reclamation bond currently posted by InZinc
If American West does not complete the IPO by June 2022, the June 2021 agreement to be restored
Terms of the June 2021 agreement not amended include InZinc receiving a 50% NSR on Indium mined subject to American West's right to reduce it to 25% by paying InZinc US$5M
Benefits to InZinc:
Exposure to American West's planned programs at three Cu-Zn projects (West Desert Project, Utah; Storm/Seal Projects, Nunavut; Copper Warrior Project, Utah)
Non-dilutive financing enabling InZinc to aggressively advance its very prospective Indy project in BC and consider other value-creating opportunities
For further information on American West, see www.americanwestmetals.com
Location and Access
West Desert benefits from all-weather road access, on-site grid power, proximity to natural gas pipelines and is located 90 km from multiple transcontinental rail networks servicing western US ports and accessing all major North American markets.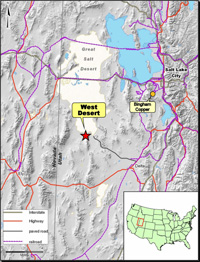 Regional Geology
The West Desert property is located on the west side of the Fish Springs Range in the northeastern part of the Basin and Range province of the southwestern United States. The principal mineral deposits thus far identified in the Fish Springs mining district formed as part of a large, magmatic-hydrothermal, skarn/carbonate replacement system of late Eocene age. A number of Utah's most significant historic mining camps, from which large scale mineral production was derived, were based on carbonate replacement and skarn base metal deposits of similar age, including the Main Tintic, Bingham and Park City districts in the vicinity of Salt Lake City. Subsequent to this historic activity, the Bingham district has been mined continuously for copper, molybdenum, gold and rhenium from the world class Bingham porphyry copper deposit since the early 20th century.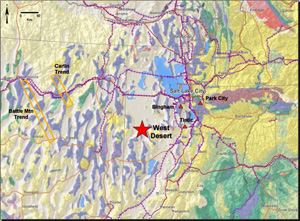 West Desert Deposit
The WD deposit consists of sphalerite with lesser chalcopyrite occurring in skarn developed in thin-bedded, shale rich carbonate rocks proximal to the intrusive complex. Magnetite is very abundant and often massive. Carbonate rocks peripheral to the skarn and intrusive complex have been converted to marble.
The WD deposit occurs in two principal zones separated by the Juab fault, the shallower Main zone being situated in Ordovician carbonate rocks north of the fault and the CRD (Deep) zone in similar rocks of Cambrian age to the south. Sphalerite, the zinc bearing mineral in both zones, is generally medium to coarse-grained. Chalcopyrite, the copper bearing mineral, occurs in both zones and also in areas where it is the dominant mineral. The overall abundance of pyrite and other iron sulphides such as pyrrhotite in the West Desert mineralizing system is very low. The Main zone has been oxidized to an average depth of about 250 metres.
Indium is present in significant quantities in the WD deposit. EDX analysis has shown it is present, in sphalerite, in amounts as high as an exceptional 8% by weight.
Mineralization in the Main zone has been traced with drilling over a length of about 525 metresto a depth of 575 metres and remains open to the west and to depth. A number of separate mineralized horizons comprising the CRD (Deep) zone have been traced with drilling over an area of about 330 metres by 225 metres at depths of between about 450 to 750 metres. They remain open to the west, south, and east.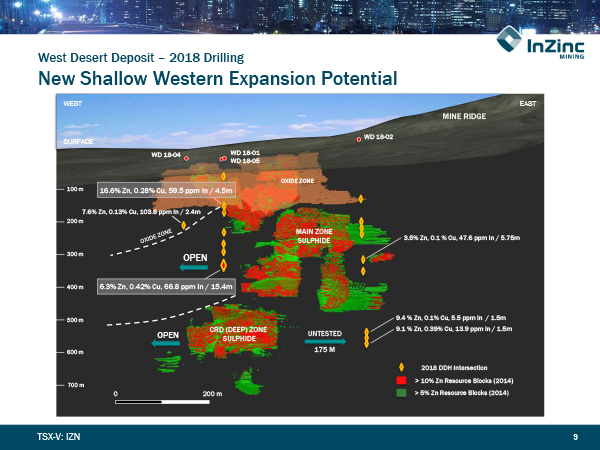 Resource Estimate
The resources at the West Desert project were estimated by Mine Development Associates (MDA) in March 2014. Gross metal values (GMV) used for cutoff reporting were based on a zinc price of US$1/lb, a copper price of US$3/lb, an iron ore price of $105/tonne and an indium price of US$600/kg to determine the relative value of each metal.
A GMV cutoff value of $50/tonne was used to define resources that would be potentially mineable in an underground operation. A GMV cutoff value of $15/tonne was used to define oxide resources that would be potentially mineable in an open pit operation. All mineralization was diluted to minimum dimensions of 2m by 2m by 3m.
Project wide underground resources are summarized in the table below:
Cut-off
($GMV)

Category

Million
Tonnes

ZnEq
(%)

Zn
(%)

Zn
(Mlbs)

Cu
(%)

Cu
(Mlbs)

In
(g/t)

In
(t)

Magnetite
(%)

Magnetite
(Mt)

50
Indicated
13.0
6.22
2.16
691.3
0.23
65.1
33
433
48
6.2
100
Indicated
8.0
7.96
3.18
561.1
0.29
50.9
42
340
53
4.2
150
Indicated
3.9
10.50
5.28
456.1
0.34
29.2
54
211
53
2.1
50
Inferred
46.0
5.57
1.76
1,781.0
0.22
224.6
24
1,102
48
22.0
100
Inferred
23.8
7.59
3.02
1,583.9
0.32
167.2
32
762
53
12.5
150
Inferred
9.8
10.70
5.88
1,266.5
0.43
92.4
38
375
48
4.7
Note: base case in bold; US$; ZnEq based on 100% recovery and Zn=$1/lb, Cu=$3/lb, Magnetite=$115/t, and In=$600/kg
Project wide near surface oxide resources are summarized in the table below:
Cut-off
($GMV)

Category

Million
Tonnes

ZnEq
(%)

Zn
(%)

Zn
(Mlbs)

Cu
(%)

Cu
(Mlbs)

In
(g/t)

In
(t)

Magnetite
(%)

Magnetite
(Mt)

15
Indicated
1.4
4.76
3.44
106.2
0.20
6.2
8
11
9
0.1
15
Inferred
6.2
4.40
2.95
404.8
0.14
19.8
9
58
15
0.9
Note: US$; ZnEq based on100% recovery and Zn=$1/lb, Cu=$3/lb, Magnetite=$115/t, and In=$600/kg
Mineralization is open for expansion in three directions and there is very good potential for the discovery of additional mineralized zones away from existing resources.
For further information on the 2014 West Desert Resource Estimate please see the Preliminary Economic Assessment section below.
Preliminary Economic Assessment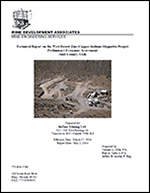 The technical report on the Preliminary Economic Assessment ("PEA") of the 100% owned West Desert zinc-iron-copper project (the "Project") in western Utah was filed on SEDAR on May 7, 2014. The results of the PEA were announced in an April 1, 2014 news release and illustrated the potential for low-cost zinc, copper and iron production through conventional bulk underground mining and processing methods.